Founder of "SYY Integrated Health Systems, Ltd."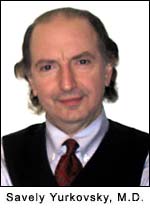 Savely Yurkovsky, MD, received his degree from II Moscow State Medical Institute, in the former USSR, in 1975. He completed his Internal Medicine Residency and Fellowship in Cardiovascular Medicine at Coney Island Hospital of Downstate Medical School, Brooklyn, New York and is Board Certified in Internal Medicine.
He is a former or current member of many professional organizations including the American College of Advancement in Medicine (ACAM), American Institute of Homeopathy, and is also one of the founding directors along with the late Dr. Robert Atkins and other alternative physicians of Foundation for the Advancement of Innovative Medicine (FAIM) in New York.
Disenchanted with the dismal yield of conventional medicine in the care of chronic diseases, he turned to the exploration and thorough study of Alternative Medicine.
Having realized that the primary source of health and disease, according to physics, stem from the corresponding cellular energy fields, he adopted a new revolutionary medical model, one that interfaces the theories of biology and physics, established by his mentor, Professor Emeritus of Materials Science, William A. Tiller, of Stanford University.
Based on this model, Dr. Yurkovsky has determined diagnostic and therapeutic priorities for the successful integration of various alternative and conventional approaches. This has led him to transform the often vague nature of medical specialties from "hit and miss" paradigms into a far more effective, exact and predictable science.
Dr. Yurkovsky has, also, founded his own teaching institution, "SYY Integrated Health Systems, Ltd.," which is dedicated to sharing his medical system under the concept of FCT® – Field Control Therapy®: or Guided Digital Medicine™.
Since 1999, he has taught this curriculum to medical doctors and licensed health care professionals with special emphasis on energy-based diagnostic and therapeutic modalities aimed particularly at toxicological, biological and nuclear agents. These, as a rule, elude conventional and most of the alternative diagnostic methods, yet represent the primary source of chronic diseases.
He also presented his system of practice at many professional symposia in both the U.S. and Europe, including the American College of Advancements in Medicine, American Academy of Environmental Medicine, the annual Bio-terrorism 2005 conference: "Unified Science & Technology for Reducing Biological Threats & Countering Terrorism" with affiliation to the Homeland Security Office, and Harvard Medical School among others. Along with several other doctors from premier academic centers in the U.S., he has been nominated for the prestigious Bravewell Leadership Award for "significant contributions to the field of medicine" and "compelling vision for the future of medicine" in 2005.
He has authored numerous articles and the book, "Biological, Chemical and Nuclear Warfare – Protecting Yourself and Your Loved Ones: The Power of Digital Medicine", which was endorsed by prominent scientists from Columbia and Stanford Universities. Very recently he has contributed a section on clinical and scientific tenets of homeopathy on behalf of the Integrative Medicine series by Oxford University Press.
Dr. Yurkovsky's particular areas of professional interest, among many, include bio-energetic aspects of homeostasis in the living with relevant diagnostic and therapeutic considerations, philosophy of science, complex scientific models, algorithms of decision making process in relation to complex systems.
He maintains his private practice in Chappaqua, New York.